Curbside Recycling Program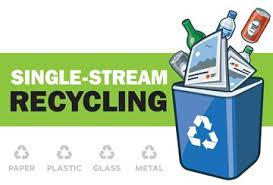 The Village of Mt. Zion recognizes the importance of recycling but at the same time understands that not everyone wants to recycle. Therefore, recycling is optional in the Village of Mt. Zion and has been added as a service to Mt. Zion residents at no additional cost.
Mt. Zion's curbside recycling program is a single stream program. What does that mean? It means that recyclable materials do NOT need to be sorted. Simply place the recyclable material in the provided cart and leave it by the curb on Thursday. It's that easy and the Village of Mt. Zion encourages all residents to participate in the recycling program.
For a list of acceptable recyclable items, CLICK HERE.
Relevant Documents
Frequently Asked Questions
How do I get a recycle cart?
To have a reycling cart delivered to your residence, contact Waste Management and request a recycle cart. A recycling cart is no additional charge.
Contact Info
Julie Miller
Village Administrator
1400 Mt Zion Parkway, Mt. Zion, IL 62549
(217) 864-5424
j_miller@mtzion.com